Romantic Period (1820-1910)
Richard Wagner

Tannhäuser: Overture
---
Richard Wagner

Born: 1813
Died: 1883
Period: Romantic
Country: Germany
Perhaps no figure in the history of music has simultaneously inspired such devotion and loathing as Wagner. On one hand, he was, by all accounts, mean-spirited, intolerant, anti-Semitic, and focused on his art at the total expense of those around him. On the other hand, he was a devoted husband, a visionary, an iconoclast, and a pivotal figure in the history of music whose theories had far-reaching consequences, not only in music, but in theater as well.
His stepfather, an actor and a playwright, exposed him to Shakespeare and Goethe, but most importantly, to Beethoven, whose music, especially the Seventh Symphony, made a deep and long-lasting impression on the young Wagner.
In the 1840s he composed The Flying Dutchman, Tannhäuser, and Lohengrin. In developing the latter, he established a new compositional concept called music drama, which was to change the course of opera in the 19th century.
Wagner's vision of the music drama was that of a total art work (Gesamtkunstwerk) that would encompass a perfect blend of music, literature, acting, poetry, set design, and architecture, with Wagner himself playing all these roles. He spent the next 35 years of his life attempting to fulfill this ideal.
An aspect of Wagner's music that placed him at the forefront of his generation was his bold use of harmony. The Overture to Tristan und Isolde begins on a single note, A. (The opening two measures form the "Isolde" leitmotif). However, the piece immediately moves away from A minor and returns to it only briefly about 30 measures later.
| | |
| --- | --- |
| Tannhäuser: Overture | Tristan und Isolde: Overture |
Especially in his late dramas, Wagner stretched the fabric of tonality almost to its breaking point. If the major/minor tonal system is built on the premise that chord progressions need to lead to a resolution on the tonic, then what happens if we never reach the tonic? The net result is a sense of restlessness or endlessness in the harmony.
Wagner's contributions to Romantic music may be summarized as follows:
Completed the restructuring of the traditional opera that began in the 18th century, leading to a new conceptualization of the art as music drama.
Created the leitmotif.
Stretched the harmonic advances of Beethoven, Schubert, Liszt and others to new limits.

Italian Opera and Bel Canto
Giuseppe Verdi

Nabucco: Entry Choir
---
Giuseppe Verdi

Born: 1813
Died: 1901
Period: Romantic
Country: Italy
Giuseppe Verdi devoted his life to refining and expanding traditional Italian opera; his music embodied the grandest and most elaborate Romantic gestures. After growing up in relative poverty in northern Italy, Verdi studied in Milan before returning home and marrying at the age of 23. His first opera, which met with encouraging success, was produced at Milan's famous La Scala Theater in 1839. At the urging of the theater director, he composed Nabucco, the story of the Babylonian King Nebuchadnezzar. At the time, Italy was struggling to free itself from Austrian rule; the story of the Jews' struggle for freedom from Babylon and their desire to return to their homeland struck a nerve with the Italian public. The chorus Va pensiero sull' ali dorate became a de facto national anthem, and the opera turned Verdi into a national hero.

Nabucco: Va pensiero sull' ali dorate
Despite occasional retirements, most notably between 1871 and 1887, Verdi's artistic success continued until his death at age 87. Although Verdi's style at times trespassed into Grand Opera (Don Carlos), he more often retained the traditional Italian forms of opera seria and opera buffa (comic opera).
Giacomo Puccini

Turandot: Nesum Dorma
---
Giacomo Puccini

Born: 1858
Died: 1924
Period: Romantic
Country: Italy
The greatest (and most eclectic) of the Italian post-Romantic composers was Puccini. Puccini was a sensitive composer with a genius for melody and a flair for drama. In the aria O mio babbino caro from Gianni Schicchi, the soprano sounds as though she were singing about the heavens unfolding. In reality, she is singing to her father, threatening to throw herself off a bridge in an impetuous fit if he does not let her marry. Vissi d'arte from Tosca may be the composer's greatest moment in verismo opera.
| | |
| --- | --- |
| Gianni Schichi: O mio babbino caro | Tosca: Vissi d'arte |
Music in Transition


Claude Debussy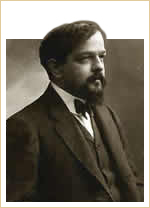 Claude Debussy (c.1908)

Prélude à 'Laprès-midi d'un faune
---
Claude Debussy
Born: 1862
Died: 1918
Period: 20th Century
Country: France
In an attempt to rebel against German musical influence, and that of Wagner in particular, Claude Debussy reflected and translated into music some of the main characteristics of French impressionistic art. In this endeavor, he was truly successful. He is known as the first composer to free Europe from German Classical-Romantic harmony.
The French impressionist painters Monet, Manet, Seurat, and Degas put an emphasis on capturing the quick impression that their subjects evoked in the observer's emotions and subconscious mind. To accomplish this, they often used brush techniques to create dreamlike qualities. Debussy achieved the musical equivalent of these effects through the use of novel compositional techniques and harmonic idioms like the whole-tone scale. These techniques created music that gave the listener the impression of a lack of tonal center or key. The importance of his music lay in the creation of atmospheric effects through delicate washes of sound.